Fill out the form below to find out how you can have a prototype in a week and deployment in 30 days!
Check out these examples of how CitizenDeveloper is changing application development and Getting Things Done!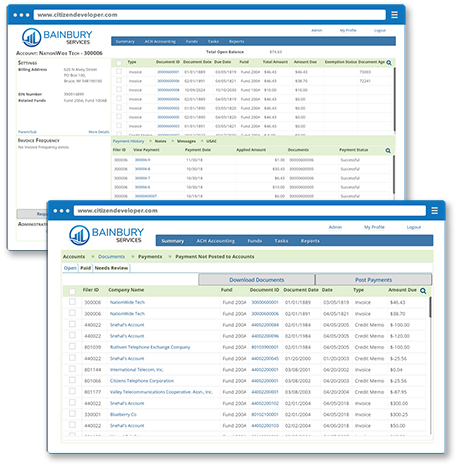 We provided a high-volume transaction processing solution removing all human interaction from payment collection.
This A/R Billing Portal Application fully automated billing functions for the FCC, by having all vendors directly log into their portal to make payments, and transfer payments directly to the FCC. Previously, work was done by hand and almost unmanageable with a medium-sized staff. Now, payment collection requires zero human involvement.
Advanced Integrations and Reporting!
We delivered an automated scheduling and billing application making our partner a hero!
Our partner brought us in to deliver a solution for a client which automates scheduling language interpreters and billing processes. Previously, schedules were produced from an unmanageable legacy system that was now outdated and having issues that would cost more to repair than for us to build them a new application on an ultra-modern technology stack.
Robust Automation and Scheduling Features!